Here's what You need: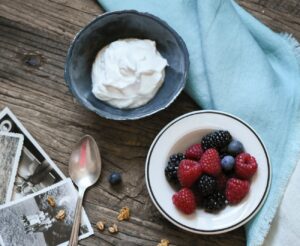 6 tbsp coconut flour
1.5 dl cocoa powder (100%)
2 tbsp Xylitol
1 pinch Himalayan pink salt
1 tsp Vanilla extract
1 tsp Cinnamon
1.5 dl melted butter
2 tbsp Coconut oil
6 pasture raised eggs
50g shredded 85% chocolate
Preheat oven to 150°C (300°F), mix everything except the shredded chocolate until smooth, move to a 20x20cm pan, spread the dough evenly and sprinkle the chocolate on top.
Bake for about 30min or until a toothpick stuck in the middle comes out clean.
Hardest part: Let cool for 30 min or more before having a taste.
Serve with whipped cream and fresh berries!