Super easy and ridiculously tasty way of cooking a lamb roast!
What You need:
Your servant CrockPot
Nice chunk of lamb roast (mine was about 1,2kg/2.5lbs)
A generous splash of olive oil
Salt, black pepper, garlic and rosemary to taste
Heavy cream
Prepare (5-10min)
Cover the bottom of the CrockPot with a thin layer olive oil and sprinkle on coarse sea salt, black pepper and rosemary. Press 1 or 2 cloves of garlic on top of the other spices and let the lamb roast rest rest on it all.
Sprinkle some more coarse sea salt, black pepper and rosemary on top of the roast and press another 2 or 3 garlic cloves to cover it with taste!
Cook (8h)
Put the lid on the CrockPot, chose low heat for 8h and go about Your day!
Finish (30min)
Lift the roast out of the CrockPot and wrap in aluminum foil to rest while preparing the sauce.
Pour the juices from the cooking through a sil into a smaller pot and reheat on the stove until simmering. Add heavy cream to taste and let the sauce simmer for about 20-25min to thicken slightly (or add some konjac root flour if You prefer a thicker sauce).
Slice the meat and serve immediately with Your choice of side!
Here I have it with some home made Sauerkraut (recipe coming soon…)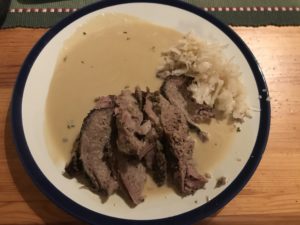 Give it a try and let me know what You think, ok?
Peace // Claes